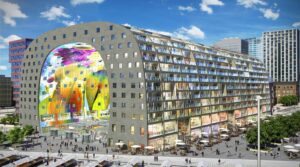 On both the front and the rear of the Markthal in Rotterdam, the revolving doors are secured by the Stackdoor stacking fence. Not only the fences but also the enclosure and side guide are finished with stainless steel so that it fully fits the overall picture.
Klépierre, a major player in continental Europe's retail real estate market with shopping centers in 57 cities and 16 countries, including the leading Markthal in Rotterdam, has given the order for this.
Thanks to its strong security features, round design and aesthetic look, the unique Stackdoor Curved proved to fit perfectly with the according to TripAdvisor no. 1 attraction in Rotterdam. Due to the opening hours these fences will not be seen often, photos and a video in the closed state will also have to wait a bit but will soon be here.
Markthal Rotterdam, the first covered market floor in the Netherlands, was opened by Queen Maxima on 1 October 2014. Next to the central station Blaak, in Rotterdam. Under a gigantic 40 meter high arch designed by MVRDV architects, is the first covered market in the Netherlands and is a home for local and international products