Placing a traditional roller shutter or rolling grille in a corner arrangement is virtually impossible. The bins are in each other's way and you need side guides in the corner. Stackdoor® is an innovative security fence whose elements stack instead of roll up.
As a result, you can still use a security fence in a corner with the Stackdoor Corner without losing space unnecessarily. Stackdoor Corner can consist of corners at any angle, L- or U-shape without using intermediate guides.
Shape combinations are also possible.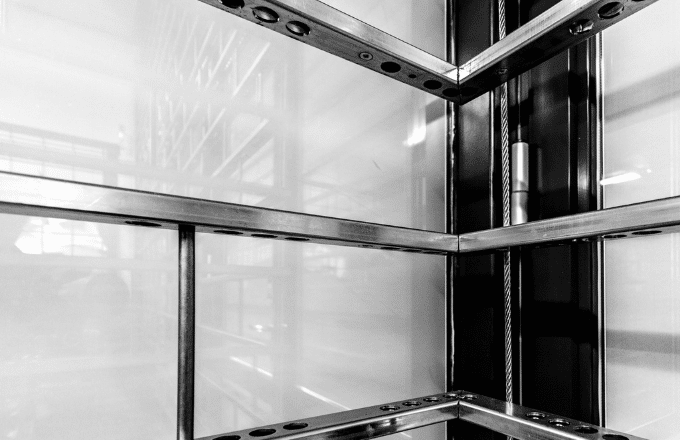 A space-saving design with minimal installation space
Stackdoor is made up of steel profiles and solid steel pins. Thanks to a unique stacking system, the steel connectors disappear into the horizontal beams when the gate is lifted. Unlike roller shutters, the security fence does not roll on its axis, but stacks upright. The large container in which a rolling grille has to be stored disappears as a result. Much or little installation space? Straight, round, corner or U-shape? Downward or upward closing? Extra wide passage or an extra narrow solution? Stackdoor can be used in virtually any situation. Thanks to the minimal installation space, the security fence can be perfectly combined with heat curtains and/or automatic doors.
Burglar-resistant: stronger than a roller grille or roller shutter
Because Stackdoor is not rolled up but stacks upright, there were no conditions attached to material thicknesses in the development of the fence. Stackdoor is therefore constructed from materials that are significantly stronger than those of traditional rolling grilles and has a unique patented mechanism that allows the gate to lock itself when closed. It is impossible to lift the gate. This gives you optimal protection against burglary, ram raids and vandalism.
Options and finishes
Operation
The Stackdoor stacking fence is supplied with a key switch as standard. All access controls are available as an option (card reader, badges, detectors, remote control, …), after adding additional anti-collision safety devices.
Motor
Depending on the application, Stackdoor stacking grilles are supplied with a tubular motor or an external motor, with or without a frequency inverter for a controlled speed or to increase the frequency of opening and closing.
Finishes
The Stackdoor stacking fences can be supplied in different finishes:
Stainless steel
Galvanised
Painted in all RAL colours
Advantages of the Stackdoor Corner staking fences
Space-saving: Takes up less space than a classic roller grille.
Burglar-resistant and vandal-resistant thanks to sturdy, heavy-duty construction.
Open structure with unobstructed view, ventilation and attractive appearance.
Available in stainless steel and all RAL colours.
No corner profiles required: the Stackdoor Corner can be placed in any angle, an L-shape or a U-shape. No profiles are needed at the place where the corner is made. The corner can also be combined with the curved and semicircular shapes of the Stackdoor Curved. The shape of your security fence nicely follows that of your entrance or shop window and fits in nicely with the architecture of your building or shop.
Both downward and upward closing.
Made to measure, also in XXL dimensions
The Stackdoor stacking fences are completely custom-made. Thanks to our XXL concept, the stacking gates can be delivered up to a width of 16 m and a height of up to 7 m. The minimum dimensions are 1 m wide and 1 m high.
By placing multiple Stackdoors next to each other, the maximum width that can be bridged is in fact unlimited.
Frequently asked questions about the Stackdoor Corner staking fences
What are the maximum dimensions of the Stackdoor Corner?
The Stackdoor stacking fences are available up to a maximum width of 16 m and a maximum height of 7 m. En juxtaposant plusieurs grilles Stackdoor®, les dimensions maximales sont illimitées.
What are the minimum dimensions of the Stackdoor Corner?
The Stackdoor stacking fences are available from a width of 1 m and a minimum height of 1 m.
How is the Stackdoor Corner finished?
The stacking fences can be finished in stainless steel, galvanized or painted in all RAL colours.
How is the stacking gate operated?
As standard, the stacking fence is equipped with a key switch. Optionally, all possible types of controls and access controls are possible. From card readers, badges, detectors and remote controls to more advanced access controls, after adding additional anti-collision safety devices.
Why is a stacking fence stronger than a rolling gate or roller shutter?
Because a stacking fence must not be able to be rolled up, there is no limitation in the thickness of the metal profiles. After all, these are stacked so that much more robust profiles can be used than with a roller grille or roller shutter.